A Social and Economic Audit of Privatisation Proposals in Newcastle.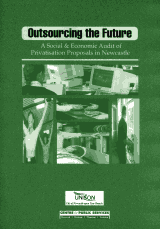 The Centre for Public Services and UNISON Newcastle have just published a new social and economic audit report. It assesses the impact of Newcastle City Council outsourcing and transfer proposals on the local and regional economy, identifying 435 potential job losses in the city council with 1,332 staff transferred to private contractors. The audit quantifies additional 131 job losses in the local economy. It also identifies the different social and economic impacts including the effect on regeneration, the local labour market, and community well-being. See Publications section for details of how to obtain a copy of the report.

European Services Strategy Unit, Duagh, Camp, Tralee, County Kerry, Ireland.
Copyright © 1998-2017 European Services Strategy Unit
This document was created by Chris Croome on 2003-10-31 19:24:52.
This document was last modified by Adam Moran on 2011-12-15 13:40:57.
This website has been developed, maintained and hosted by Webarchitects since 1998.