The ESSU has produced a report for the Northern TUC, UNISON and UNITE into the safety and operational performance of Deutsche Bahn, currently one of two organisations processing through the final stages of competitive tendering to run Tyne and Wear Metro services for Nexus, the Tyne & Wear Passenger Transport Authority, the other 'bidder' being an in-house bid team.

Deutsche Bahn Briefing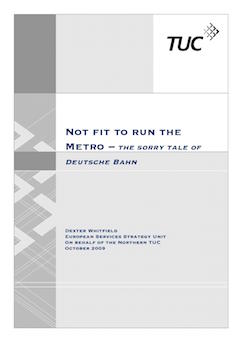 European Services Strategy Unit, Duagh, Camp, Tralee, County Kerry, Ireland.
Copyright © 1998-2017 European Services Strategy Unit
This document was created by Dexter Whitfield on 2009-10-23 13:52:23.
This document was last modified by Dexter Whitfield on 2015-09-23 18:52:05.
This website has been developed, maintained and hosted by Webarchitects since 1998.