This ESSU Research Report focuses on appraisal criteria, which are a fundamental part of the options appraisal process. It outlines out the key stages in the appraisal process. As options appraisal becomes a more common tool in public management there is evidence that 'appraisal bias' is leading to pre-selected options and construction of particular outcomes by the selective use of evidence and narrow evaluation criteria. Yet a rigorous and investigative approach can be very productive, directing attention to longer-term needs rather than short- term interests. The Options Appraisal Criteria Matrix has twelve sections, which cover the full range of issues that should be taken into account in appraising options.

Essu Options Appraisal 2

Essu Options Appraisal 2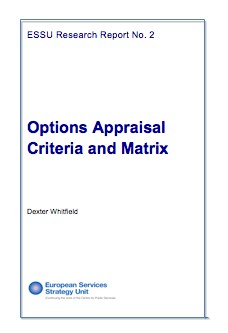 European Services Strategy Unit, Duagh, Camp, Tralee, County Kerry, Ireland.
Copyright © 1998-2017 European Services Strategy Unit
This document was created by Dexter Whitfield on 2007-06-03 10:59:22.
This document was last modified by Dexter Whitfield on 2015-09-25 14:39:35.
This website has been developed, maintained and hosted by Webarchitects since 1998.