A detailed handbook for equal opportunities in competetive tendering. Contents: Legislative context. Who should be involved. Building equalities into the key stages of the tendering process. Implementing equalities in Direct Service Organisations. Trade union guidance.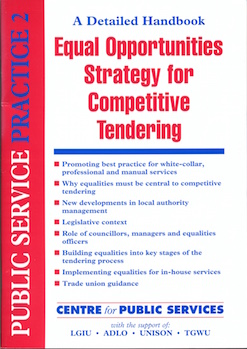 European Services Strategy Unit, Duagh, Camp, Tralee, County Kerry, Ireland.
Copyright © 1998-2017 European Services Strategy Unit
This document was created by Alex Nunn on 2004-03-17 12:43:25.
This document was last modified by Dexter Whitfield on 2015-09-24 09:52:50.
This website has been developed, maintained and hosted by Webarchitects since 1998.