Articles on The Post Office: A privatisation too far; school meals – children's health; research on the scale of externalisation of council services; private finance – the future for public services and government outsourcing study ignores equalities.

Public Service Analysis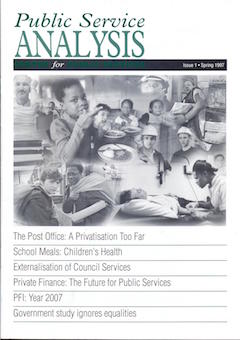 European Services Strategy Unit, Duagh, Camp, Tralee, County Kerry, Ireland.
Copyright © 1998-2017 European Services Strategy Unit
This document was created by Dexter Whitfield on 2012-08-18 20:35:49.
This document was last modified by Dexter Whitfield on 2015-09-24 06:11:07.
This website has been developed, maintained and hosted by Webarchitects since 1998.