Since the election of the Labour Government in February 1974, the struggle to achieve decent housing for all sections of the community has suffered a number of major setbacks. First, by October 1977 the Government had cut an estimated £1,250m from the housing programme. Second, under the guise of 'rationalisation', the Government has introduced tough measures to curb the degree of autonomy of local councils over the size and scope of their housing programmes. Third, there have been major moves to expand the private housing market at the expense of council housing. This pamphlet is designed to illustrate the housing crisis facing working people and describes the impact of the crisis on working class areas. It is intended to be a major contribution to the debate now taking place throughout Britain on the Government's housing green paper (60 pages).

Up Against A Brickwall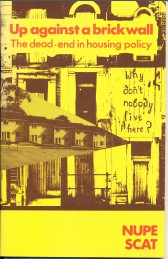 European Services Strategy Unit, Duagh, Camp, Tralee, County Kerry, Ireland.
Copyright © 1998-2017 European Services Strategy Unit
This document was created by Dexter Whitfield on 2012-07-24 16:24:16.
This document was last modified by Dexter Whitfield on 2015-09-25 12:11:50.
This website has been developed, maintained and hosted by Webarchitects since 1998.