A review of the experience of Compulsory Competitive Tendering under the Local Government Act 1988. Includes sections on the effects on services and jobs, claimed savings and the consequences of the baling model of local government.

CCT On The Record 2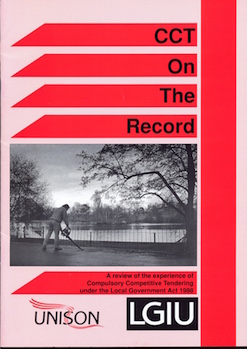 European Services Strategy Unit, Duagh, Camp, Tralee, County Kerry, Ireland.
Copyright © 1998-2017 European Services Strategy Unit
This document was created by Chris Croome on 2013-07-23 09:32:48.
This document was last modified by Dexter Whitfield on 2015-09-24 12:16:18.
This website has been developed, maintained and hosted by Webarchitects since 1998.