The past decade has seen an increasing presence of independent trusts established to take over public services from local authorities. This report is a detailed analysis of all aspects of leisure and library trusts and includes economic statistical analysis of the trust option, and a set of guidelines for trade unions in dealing with the trust debate. Commissioned by UNISON (1998).

Leisure and Library Trusts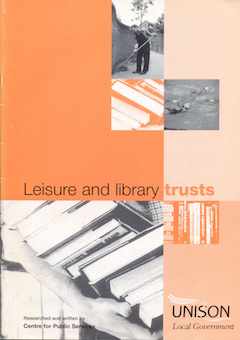 European Services Strategy Unit, Duagh, Camp, Tralee, County Kerry, Ireland.
Copyright © 1998-2017 European Services Strategy Unit
This document was created by Dexter Whitfield on 2008-03-29 13:11:16.
This document was last modified by Dexter Whitfield on 2015-09-23 17:38:46.
This website has been developed, maintained and hosted by Webarchitects since 1998.