An overview of a looming housing crisis – house building back to the 1920s, rocketing rents, increased subsidies for private housing, improvement slows, repairs backlogs rise. Makes the case why housing is important for the labour movement and provides examples of local organising and action (4 pages).

London's Homes – The Fight Is On, 1981 – Proposes radical alternatives in response to London's housing crisis as conditions worsen, jobs are lost, rents rise and council housing is sold. Suggests various ways for increased tenant and trade union cooperation. For NUPE London regions (4 pages).

Homes - New Crisis Looms

London's Homes - The Fight Is On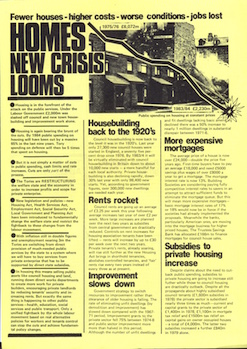 European Services Strategy Unit, Duagh, Camp, Tralee, County Kerry, Ireland.
Copyright © 1998-2017 European Services Strategy Unit
This document was created by Dexter Whitfield on 1981-02-25 08:39:40.
This document was last modified by Dexter Whitfield on 2015-09-24 12:38:54.
This website has been developed, maintained and hosted by Webarchitects since 1998.