Details the scale of privatisation by the sale of Direct Service Organisations, management buyouts, leisure trusts and large-scale voluntary transfer of council housing. Assesses the impact on jobs and employment policies, the effect on local authorities and local economies and the growth of an externalisation market, for UNISON (44 pages).

Externalisation By Privatisation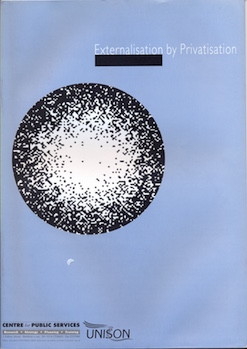 European Services Strategy Unit, Duagh, Camp, Tralee, County Kerry, Ireland.
Copyright © 1998-2017 European Services Strategy Unit
This document was created by Dexter Whitfield on 1998-02-24 08:24:49.
This document was last modified by Dexter Whitfield on 2015-09-24 08:42:43.
This website has been developed, maintained and hosted by Webarchitects since 1998.