Commissioned by South Shields Trades Council, this report examines the relationship between housing policy and industrial policies and employment in an area of industrial decline and change. It is a critical analysis of attempting to expand the private housing market through the sale of council housing and land to attract industrial investment (48 pages).

Demolishing The Myths: Housing and Jobs in South Tyneside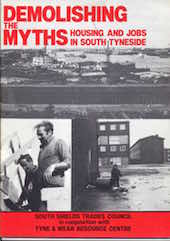 European Services Strategy Unit, Duagh, Camp, Tralee, County Kerry, Ireland.
Copyright © 1998-2017 European Services Strategy Unit
This document was created by Dexter Whitfield on 1980-02-24 09:19:24.
This document was last modified by Dexter Whitfield on 2015-09-23 16:33:54.
This website has been developed, maintained and hosted by Webarchitects since 1998.