This is a summary of a research study carried out for the Equal Opportunities Commission (EOC) into the gender impact of CCT in local government. The study found a number of areas where CCT had a more serious effect upon women's employment situation than their male counterparts. This summary describes the context and methodology of the research, and presents the key findings of the report. It also contains a series of EOC policy recommendations for public bodies.

Gender Inpact of CCT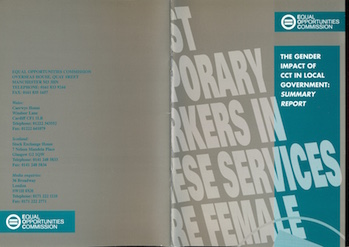 European Services Strategy Unit, Duagh, Camp, Tralee, County Kerry, Ireland.
Copyright © 1998-2017 European Services Strategy Unit
This document was created by Dexter Whitfield on 2008-03-28 19:36:09.
This document was last modified by Dexter Whitfield on 2015-09-24 13:04:50.
This website has been developed, maintained and hosted by Webarchitects since 1998.