Between 1990 and 1994, Ealing council under conservative control undertook an aggressive strategy of commercialising its public services, taking privatisation and commercialisation to extreme lengths and leaving a lasting legacy of unemployment, low levels of service provision and accountability, and a huge budget deficit. This report documents the devastating nature of such policies, and offers a textbook example of the risks of privatisation and externalisation of public services. Written and researched by Centre for Public Services for Ealing Unison (1994).

Putting Public Services at Risk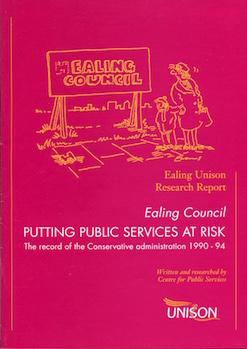 European Services Strategy Unit, Duagh, Camp, Tralee, County Kerry, Ireland.
Copyright © 1998-2017 European Services Strategy Unit
This document was created by Dexter Whitfield on 2008-03-28 19:34:21.
This document was last modified by Dexter Whitfield on 2015-09-24 13:16:53.
This website has been developed, maintained and hosted by Webarchitects since 1998.