This handbook provides a comprehensive critique of the use of management consultancy and arguments against the uncritical use of external advice. It identifies important issues which must be taken account of in any decision to use management consultants, and provides a practical guide to the procurement process and engaging management consultants for local authorities, health bodies, public bodies, trade unions and community organisations. Centre for Public Services (1999).

management-consultants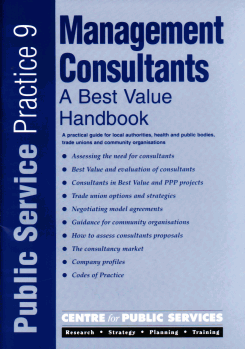 European Services Strategy Unit, Duagh, Camp, Tralee, County Kerry, Ireland.
Copyright © 1998-2017 European Services Strategy Unit
This document was created by Dexter Whitfield on 2008-03-28 19:19:52.
This document was last modified by Dexter Whitfield on 2015-09-21 19:14:55.
This website has been developed, maintained and hosted by Webarchitects since 1998.