Cutting through the coalition government's rhetoric of localism and 'community rights', Dexter Whitfield exposes a strategy to further destabilise and fracture public provision, accelerating marketisation and privatisation.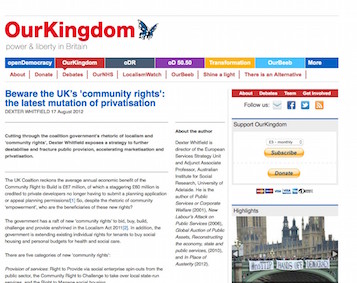 European Services Strategy Unit, Duagh, Camp, Tralee, County Kerry, Ireland.
Copyright © 1998-2017 European Services Strategy Unit
This document was created by Dexter Whitfield on 2012-08-18 19:15:54.
This document was last modified by Dexter Whitfield on 2015-09-28 11:27:32.
This website has been developed, maintained and hosted by Webarchitects since 1998.