Makes the case against externalisation, a detailed discussion on trade union strategies and a checklist of questions to challenge local authorities, consultants and contractors, for UNISON (20 pages).

Externalisation By Privatisation Trade Union Strategy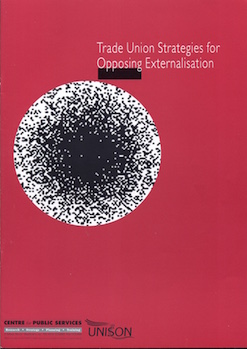 European Services Strategy Unit, Duagh, Camp, Tralee, County Kerry, Ireland.
Copyright © 1998-2017 European Services Strategy Unit
This document was created by Dexter Whitfield on 1998-02-24 08:35:33.
This document was last modified by Dexter Whitfield on 2015-09-24 08:51:03.
This website has been developed, maintained and hosted by Webarchitects since 1998.