Detailed study of outsourcing and commercialisation in Westminster, Wandsworth and Kensington and Chelsea for NALGO, including contracts, costs, job impacts and the effect on services. Identifies the lessons for trade union strategies and wider policy implications (58 pages).

Competition Cuts and Contractors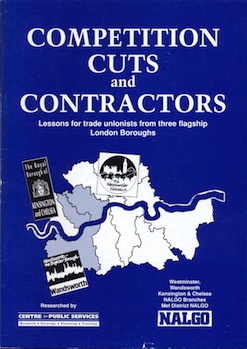 European Services Strategy Unit, Duagh, Camp, Tralee, County Kerry, Ireland.
Copyright © 1998-2017 European Services Strategy Unit
This document was created by Dexter Whitfield on 1992-02-24 09:02:15.
This document was last modified by Dexter Whitfield on 2015-09-24 09:03:24.
This website has been developed, maintained and hosted by Webarchitects since 1998.