For contracts and service level agreements (May 1995).

Contents:

Contract Packaging.

Specification Strategy.

Performance Standards.

Quality Plan.

Method Statements.

Equal opportunities.

Council policy.

Environmental policy.

Evaluation criteria.

Specification and tendering instructions.

Monitoring performance.

Contract conditions.

Quantifying the work.

Pricing mechanisms.

Preparing the in-house bid.

Preparing for tender evaluation.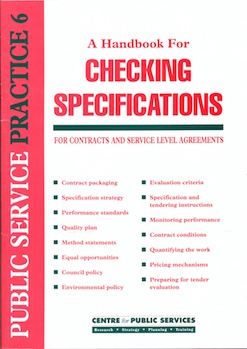 European Services Strategy Unit, Duagh, Camp, Tralee, County Kerry, Ireland.
Copyright © 1998-2017 European Services Strategy Unit
This document was created by Alex Nunn on 2004-03-17 11:52:25.
This document was last modified by Dexter Whitfield on 2015-09-24 09:48:17.
This website has been developed, maintained and hosted by Webarchitects since 1998.