Details asset stripping of the public sector, explains why council housing is important, who's demanding the sale of council housing, why sales are disastrous, alternatives to sales and action strategies. Published in 1980 and supported by 50 national, regional and city-wide tenants organisations, trade unions and other organisations, this is an expanded version of the first edition published in 1976, which sold 8,000 copies. Correctly predicted the development of sales and the housing and financial consequences (28 pages).

The Great Sales Robbery 1st Edition

The Great Sales Robbery 2nd Edition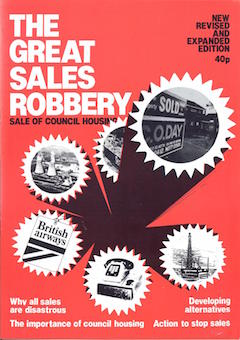 European Services Strategy Unit, Duagh, Camp, Tralee, County Kerry, Ireland.
Copyright © 1998-2017 European Services Strategy Unit
This document was created by Dexter Whitfield on 2012-07-23 19:29:23.
This document was last modified by Dexter Whitfield on 2015-09-23 20:01:55.
This website has been developed, maintained and hosted by Webarchitects since 1998.