Examines the pattern of bidding by private contractors and housing associations and the award of contracts to manage council housing in London Boroughs. Assesses pricing information and average tender unit costs. Commissioned by Greater London UNISON (18 pages).

Housing Management Tendering in London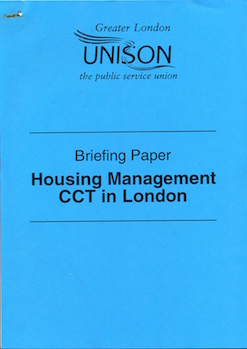 European Services Strategy Unit, Duagh, Camp, Tralee, County Kerry, Ireland.
Copyright © 1998-2017 European Services Strategy Unit
This document was created by Dexter Whitfield on 1996-02-25 08:34:01.
This document was last modified by Dexter Whitfield on 2015-09-24 08:07:16.
This website has been developed, maintained and hosted by Webarchitects since 1998.