Sets out a ten-point action plan to fight estate sales ranging from planning an effective campaign to developing alternatives, building alliances and strengthening tenants' organisations. Concludes with a 118-question checklist divided into sections about challenging local authorities, developers, the government and housing associations (32 pages).

We Are Not For Sale - Part 1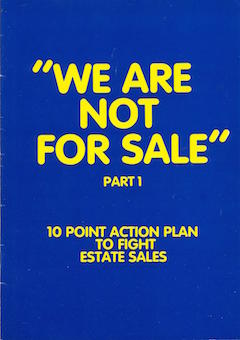 European Services Strategy Unit, Duagh, Camp, Tralee, County Kerry, Ireland.
Copyright © 1998-2017 European Services Strategy Unit
This document was created by Dexter Whitfield on 1985-02-24 09:31:26.
This document was last modified by Dexter Whitfield on 2015-09-24 07:49:59.
This website has been developed, maintained and hosted by Webarchitects since 1998.