The Research Report identifies the scope of major cost overruns, delays and terminations in 105 outsourced public sector ICT projects in central government, NHS, local authorities, public bodies and agencies in the last decade. There has been wide reporting of individual and department or authority-wide project failures in the national and ICT press but little analysis of the overall scope and evidence. The value of contacts is nearly £30billion with an average cost overrun of 30.5%.

ESSU research paper 3

ESSU-research-paper-3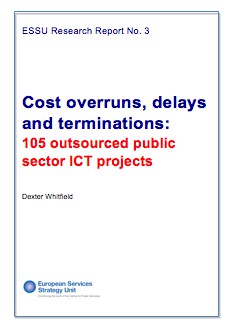 European Services Strategy Unit, Duagh, Camp, Tralee, County Kerry, Ireland.
Copyright © 1998-2017 European Services Strategy Unit
This document was created by Dexter Whitfield on 2007-12-12 18:45:28.
This document was last modified by Dexter Whitfield on 2015-09-25 15:31:33.
This website has been developed, maintained and hosted by Webarchitects since 1998.