A hard-hitting report by Bradford NALGO which examines the sweeping changes from the time the Conservatives narrowly gained control of Bradford Council in October 1988, until the setting of the Poll Tax in March 1990. It outlines the local Tory strategy and national significance of The Bradford Experiment; describes the scale and impact of cuts and restructuring; provides a critical analysis of Bradford Council's commercialisation strategy; looks in detail at what the Bradford Experiment has meant for users of services; examines the impact of these changes on the local economy; and draws out lessons to be learnt (36 pages).

Bradford Experiment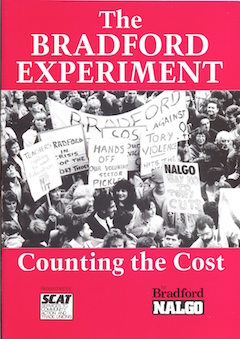 European Services Strategy Unit, Duagh, Camp, Tralee, County Kerry, Ireland.
Copyright © 1998-2017 European Services Strategy Unit
This document was created by Dexter Whitfield on 2012-07-24 16:32:17.
This document was last modified by Dexter Whitfield on 2015-09-23 16:54:23.
This website has been developed, maintained and hosted by Webarchitects since 1998.