Your Choice Barnet Ltd (YCB), planned to make £2m profit over a four-year period from residents with physical disabilities and learning difficulties to subsidize London Borough of Barnet taxpayers. It is, as predicted, in financial crisis. This analysis for the Campaign Against the Destruction of Disabled Support Services (CADDSS) exposes the scale of the company's financial crisis, the failure to attract new service users and revenue, the totally inadequate approach to engagement and the drastic staff restructuring proposals, which it claimed would not affect service users and carers. The report sets out a detailed case for full and continuing engagement of service users, carers and community organisations, together with staff and trade unions, in the design, delivery and review of service provision. There is a very substantive case for returning Your Choice Barnet services back to in-house.

CADDSS Analysis
See earlier reports for Barnet UNISON on the Options Appraisal, Business Case and Business Plan which predicted the financial crisis.
Analysis of Business Case for Local Authority Trading Company (May 2011)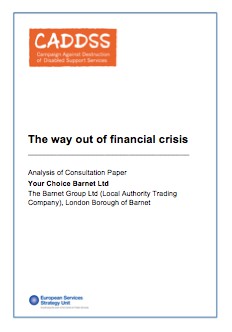 European Services Strategy Unit, Duagh, Camp, Tralee, County Kerry, Ireland.
Copyright © 1998-2017 European Services Strategy Unit
This document was created by Dexter Whitfield on 2013-07-22 14:02:04.
This document was last modified by Dexter Whitfield on 2015-09-25 17:11:42.
This website has been developed, maintained and hosted by Webarchitects since 1998.